Serabee
Join us for an evening filled with music from Serabee!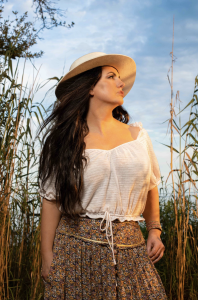 Raised in churches, juke joints, and tent revivals in Louisiana and Mississippi by her preacher, guitar-playing father and folk songwriter mother, Serabee is a stunning singer songwriter, and pianist that can be compared to: Ray Charles, Professor Longhair, Jerry Lee, and Dr. John. Her 'bring the house down' singing has been compared to Aretha, Tina Turner, and Susan Thedeski.
Serabee began performing in New Orleans and Mississippi clubs, where she developed a large following. A gifted songwriter, she has written and worked with Michael Bolton, Doug Morris (Universal), Craig Wiseman, Ben Margulies (Mariah Carey), Usher, Matt Serletic (Matchbox Twenty), Hugh Padgham (Sting, Kate Bush), and Stephanie Bentley (Faith Hill). One of her most cherished moments was meeting George Jones after finding out he loved one of her songs, "Water Under The Bridge," and they promised each other a duet but the legendary singer passed away before they could make it happen.